Table of Contents
Introduction
Why Invest in a Gold IRA
Gold's Practical Uses Outside of a Gold-Backed IRA
What Metals Can I Put In My IRA?
The Four-Step Process to Start Gold IRA Investing
Frequently Asked Questions
Glossary
Introduction
If you are the owner of an individual retirement account (IRA) or 401(k) and are worried about economic inflation affecting the value of your assets, investing in precious metals may be a good long-term choice. Precious metals are time-tested and proven to be a solid investment in a volatile market because the price of precious metals tends to rise in times of economic uncertainty. Gold and other precious metals have been a store of wealth for thousands of years and will always be a safe haven asset. Including physical precious metals in your retirement portfolio will ensure diversification that will allow you to retire worry-free.
Just like any Individual Retirement Account, a gold IRA allows you to open an account and make the allowable annual contributions or rollover/transfer from an existing retirement account to invest in physical precious metals.
Check out our rollover guide to check if your existing plan qualifies. Contact us if you need additional assistance.
As we saw in 2008, Wall Street is unpredictable! Some who were fully invested only in the stock market lost 40% of their portfolio overnight. The recession forced many out of retirement and back to the workforce. At the same time that the stock market crashed, the price of precious metals rose as the volatility of the market forced investors into safe-haven assets. We need some  "insurance" in our retirement portfolios to protect our hard earned savings.
Why Invest in a Gold IRA
What do you expect life to be like when you retire? Have you been thinking about your retirement savings strategy and wondering how you could improve it? If so, you aren't alone. Many people, especially those hardest hit by the Great Recession of the last decade are finding themselves wondering whether their current retirement strategy is strong enough to make up for their losses in 2008 as well as protect themselves from future losses.
The truth is that if you are invested in a Traditional or Roth IRA or a company-sponsored plan such as a 401(k), you may not be aware of some weaknesses that are common among all of these paper backed investments.
These paper-backed investments, like mutual funds, are based on the strength and value of the dollar. Since the United States went off the Gold Standard, the dollar has become weaker and weaker in terms of buying power. This affects your daily life because if the value of the dollar decreases, gas prices go up, food prices go up, and your dollar does not go as far as it did before.
Gold's Practical Uses Outside of a Gold-Backed IRA
Conversely, using a gold IRA will help hedge your portfolio against inflation. History has shown gold has increased in value alongside inflation, making gold IRA investing a smart choice. A self-directed IRA is the only tool to invest in gold and receive tax advantages.
Besides being used in a self-directed IRA, gold has many practical uses keeping gold in high demand. The jewelry industry makes up more than 50% of the global demand for gold, and with global populations at an all-time high, demand will continue to rise.
What Other Options Exist Besides a Gold IRA?
Gold is used in:
smartphones
laptops
tablets
gaming consoles
solar panels
and much more
Because physical precious metals all have industrial and commercial uses, their value is not only based their on exchange rates, but also supply and demand. With a finite supply and an increasing demand, their value will continue to rise.
Analysts estimate that by 2020 there will be 6.1 billion smartphone users in the world. The explosion of technology in the 21st century has led to an ever-increasing demand for the conductive metal. As gold mining and production have become increasingly difficult, the realization that the global supply of the metal is dwindling means that the price of gold will continue to rise as we get further and further into the information era.
What Metals Can I Put In My IRA
Before you start investing in precious metals in your individual retirement account, it is important to understand some of the IRS regulations surrounding precious metals IRAs and what you can and cannot add. The following things may be assessed by the IRS when determining what products meet the precious metals IRA rules:
Level of Purity – The precious metals in your IRA must meet a minimum fineness as stated by the IRS:

Gold – .995
Silver – .999
Platinum – .9995
Palladium – .9995

Place of issue, e.g. Royal Canadian Mint, US Mint, Perth Mint, Royal Mint
The precious metals you place in your IRA must be held in the custody of an IRS approved custodian until you reach retirement age. Once you reach retirement age at 59 1/2, you can begin taking distributions either in the form of physical precious metals or you can sell them back at market price.
Do you still have questions? If so, speak with one of the gold and silver investment experts at Goldco. These professionals will go into detail about a gold IRA and important processes. They can also help you with other metals like silver, platinum and palladium.
It is important to mention that because gold is a physical asset, you might think that you can store your gold at home in your own safe. Unfortunately, this isn't the case*. The precious metals you add to your Individual Retirement Account must be held in the custody of an IRS approved custodian that is in charge of administering your IRA and stored in a licensed, insured depository until you reach retirement age. At this point, you can take possession of the metals.
*Certain exceptions apply, contact us to learn more.  
Goldco offers a wide range of gold products that are approved by the IRS for inclusion. Some of our more popular options include: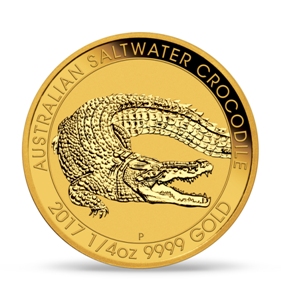 1/4 oz Gold Australian Saltwater Crocodile. (A Goldco Exclusive Coin)
These products meet the stringent fineness test for inclusion. See the full list of IRA Approved Gold Coins.
As mentioned previously, silver, platinum and palladium products are also eligible. Goldco offers an array of platinum products that meet IRS requirements including the Platinum Canadian Maple Leaf Coin and various palladium bars and coins. Questions concerning which investments are the right ones for your needs can be answered by your Goldco IRA representative.
The Four Step Process to Start Gold IRA Investing
Do you think gold might be a perfect choice for your retirement savings needs? The first step is to contact Goldco today and start the process. If you need additional guidance, fill out our form on the right-hand side of the page to have one of our representatives contact you, or call us at (855) 465-3472.
The first step is to contact Goldco today and start the process. If you need additional investment advice, fill out our form on the right-hand side of the page to have one of our representatives contact you, or call us at (855) 465-3472.
Once you are ready, together, we will complete the documents to set up your account and transfer or rollover funds from your existing IRA, 401k or other employer-sponsored plans to open the account.
The next step is to send back your completed paperwork and let Goldco go to work for you.
We will open your Self-Directed Individual Retirement Account and process the necessary documents to transfer the funds to your existing account without having to worry about paying taxes or early withdrawal penalties. Once your account is open, your representative will then be able to help you make informed decisions regarding the precious metals you should invest in. The entire process usually takes about 2-3 weeks.
Frequently Asked Questions
Why do I need a custodian for my IRA?
Every self-directed IRA requires the use of IRA custodians as stated by the IRS. If a company is offering you the ability to hold your precious metals at home and count towards your IRA, steer clear as this is not legal. Our team will give you guidance that will help you choose the right spot price. We also assist with funding by properly rolling over IRAs.
Is the gold in my IRA safe?
First of all, your gold is stored in a secure vault in an IRS approved depository (Delaware Depository). Your gold is also insured by Lloyd's of London in case anything does happen.
A common misconception is that investors think they can store physical gold in a home safe. This is an easily preventable mistake when choosing gold as an investment and we can help you avoid this along with other common errors.
Speak with your Account Executive for any questions about where your gold is stored and how it is protected.
When and how can I take distributions from my precious metals IRA?
At the age of 59 1/2, the beneficiary can start taking distributions from their account. This can be in the form of physical precious metals, or you can sell it back to us or on the free market. The same taxation rules apply as they do for other types of retirement accounts, depending on the type of IRA (Roth vs. Traditional). Consult with your Account Executive for more questions.
Does my Retirement Plan Qualify?
Check out our rollover table to check if your plan qualifies for a precious metals IRA.
Glossary
Rollover – The process of moving assets from an employer-sponsored retirement account (such as a 401(k) or 403(b)) to an IRA. There are specific rules for direct rollovers (trustee to trustee) and indirect rollovers (liquidated account). See our 401(k) rollover page for more details.
Transfer – IRA to IRA movement of retirement funds.
Gold Spot Price – Current price of gold.
Custodian – A financial institution that hold's an individual's assets/securities for safekeeping as required by the IRS. They are authorized to act on behalf of the individual.
Depository – Where your gold or precious metals are stored.
Related