Silver IRA Coins
While gold is used generally more for consumer jewelry and as a status symbol, silver is heavily relied on in the industrial sector in energy technologies, medical equipment, jewelry, industrial tools.  Because of its increasing demand and limited supply, experts are predicting that the price of silver will skyrocket over the next few years. When economic market conditions are scarily unstable, silver can be relied on as a hedge against inflation and as insurance against ones retirement portfolio. When you rollover your retirement funds to silver, you can enjoy this same protection for your own accounts. Not all silver qualifies for your IRA; the silver in your IRA must meet the stringent IRS rules so take time to understand what your options are.
Which silver coins should I be investing in?
In order to qualify for your IRA:
The silver must have a fineness of .999, or 99.9% purity
Your silver must be held by your custodian in a secure depository. If a company is offering you the ability to store your precious metals at home, then steer clear as this is not approved by the IRS. We do not recommend home storage due to IRS regulations.
IRA contribution limits apply
If you already own silver in your possession, you cannot add it to your Silver IRA
Avoiding Counterfeit Silver
There are a number of "counterfeit proof" coins in circulation. These coins have a special privy mark on the edge that are impossible to fake. Goldco offers a number of exclusive coins with the privy mark, including the Silver Britannia Lunar Year of the Rooster Privy and the 20th Anniversary Britannia Privy. Working with a trusted precious metals dealer is also key to ensuring that your retirement funds are in good hands.
Finding a Trustworthy Silver Dealer
As a prospective buyer of IRA approved silver, you should take the time to research what is the best company to work with. Read unbiased reviews in order to determine what company is best for you. Always be careful when buying silver on the Internet, because if you do not research the dealer first, you may at be at risk in working with less than honest dealers.
Contact the team to set up your account today.
Millions of investors are turning to silver IRA coins in search of a safer long-term asset. However, only certain metal products are permitted to be placed in IRAs. Speak with a IRA expert at 855-GOLD-IRA (855-465-3472) to learn more about the rules for eligible silver metals in your retirement account.  Getting started is simple. We'll show you the three easy steps that can put you in control of your financial security by owning physical silver.
Featured Silver IRA Coins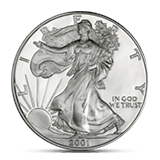 Silver American Eagle
The Liberty Coin Act of 1985 gave way to the possibility of a domestic source for silver bullion coins that had not been available to investors. On October 29, 1986 Secretary of the Treasury, James Baker, pressed the button at the San Francisco mint to strike the first Silver American Eagle.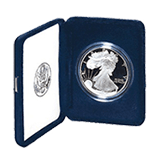 Proof Silver American Eagle
Silver American Eagle Proof coins are uncirculated, collector versions of the official United States bullion coins and are only available in the one ounce size. They're minted at the United States Mint at West Point and bear the "W" mint mark.
Other Coins Approved For Silver IRAs
There are several other coins that meet the requirements for including them in your Silver IRA account:
Silver Canadian Maple Leaf
Were first minted in 1988.
Silver Britannia
Minted at the oldest mint in the UK.
Silver Mexican Libertad
Minted at the oldest mint in North America.
Silver Australian Kookaburra
First produced in 1990.
Silver Arctic Fox
Minted in Canada.
Other Coins Not Approved For Silver IRAs
Below is a list of coins and bullion that are not approved for silver IRAs.
Starting Your Silver IRA is Easy
Contact us at (865)465-3472 to start your silver ira account.